QuicBite App:
A quicker alternative to ordering food
---
School of Visual Arts
Interaction Design
Spring 2020
Duration: 3 Weeks

Softwares Used
Sketch ︎︎︎ Wireframing & UI
Principle ︎︎︎ Prototyping
Adobe After Effects ︎︎︎ Mockups
UI/UX Design
Branding
User Research
User Personna
Prototyping
---

---
INSIGHTS
60% of U.S. consumers order delivery or takeout once a week.The top reasons why people reluctantly order take-out are:

1. Cravings (44 %)
2. Being too lazy (37 %)
3. Not having the time (26 %)

Source
---
RESEARCH

50 consumers that use the following services to order food online were interviewed via online survey︎ .
---
PROBLEMS

A very unique finding was that while Online food ordering is supposed to save time, a lot of people had issues with their '
browsing time

' and subsequently their overall experience because of:
Option Paralysis

Users spend too much time choosing their orders. Too much choice can make decisions more difficult.




When there's a choice of options, people can worry that, even after purchase, they've made the wrong choice.
Restaurants need quick turn around time which causes incomplete and wrong orders. Delivery often takes longer than expected.



---
AIM/ OBJECTIVE
Reduced Options

Recommending fewer, more relavant options, based on one's personalized taste and cuisine preferences.

Better Decision Making for consumers


Restaurants with higher daily ratings (Quality, correctness of order, delivery time etc.) will have a higher chance of getting recommended, incentivizing them to perform better all day.
Live (daily) Restauran Performance Overview
Information displayed is based on one's location, meal, order habits, and situation (weather, health, starving etc.) enables better decision making

---
SOLUTION VIA USER JOURNEY
Understanding how QuicBite works through
a user journey

(Use carousal to view journey)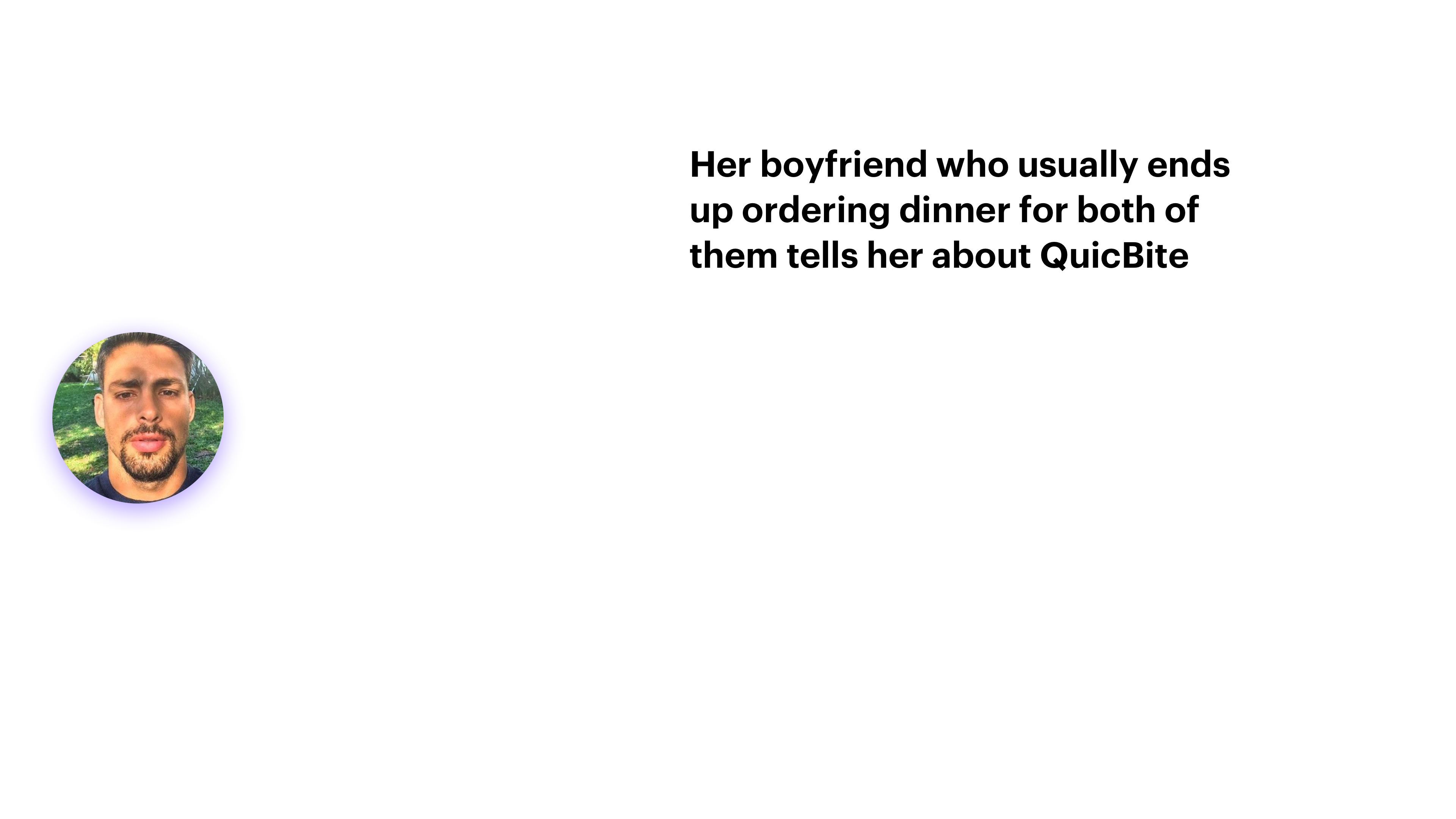 ---
Account or
User Profile

Jane gets a quick overview of her profile and taps on the first Icon which leads her to the landing page.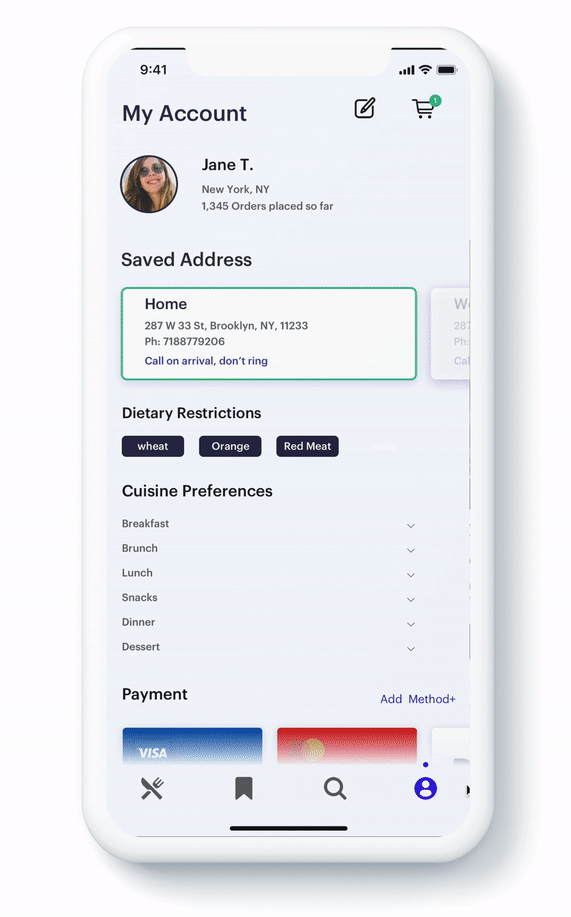 ---
Recommended
for You
She sees 7-8 options based on her food profile and other preferences.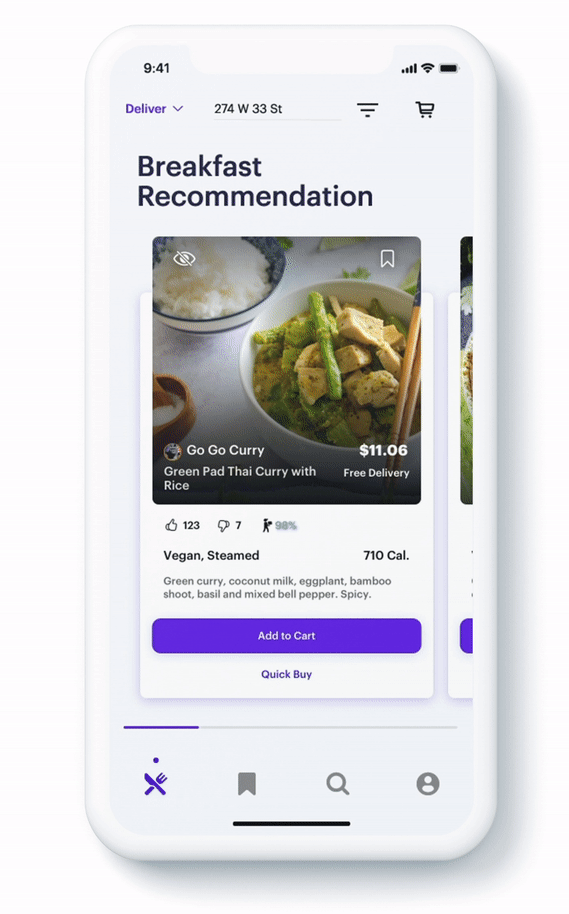 ---
Item Page

Jane customizes her dish and gets a quick overview of the taste and ingredients. The images uploaded by users give an idea of the serving amount.
---
Quick Buy


Later that day during Lunch she checks QuicBite again.

This time she sees a familiar dish she hadn't had in a long time. She Quick Buys the item, and in two steps she is able to place her order.
---
Discover and
Save Dishes
After a few days of using the App, Jane has a decent amount of saved dishes she decided to try in future.




However, since she had used the app for only a week there were not a lot of saved dishes. She decides to check discovery tab to find restaurents and food in her area.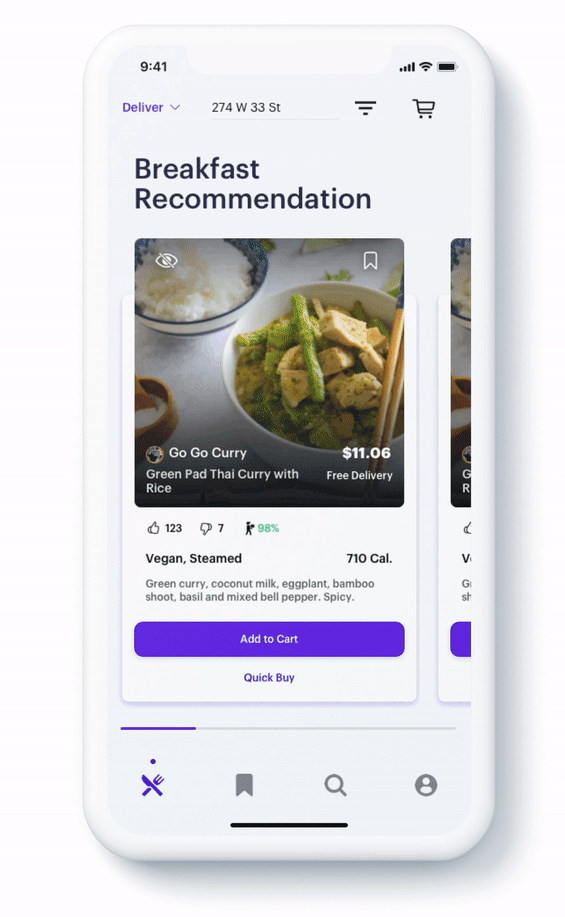 ---